I suppose it's because I am a confused Gemini but I love winter Christmas scents like apple and Cinnamon but I also love summer scents that are fresh and smell like a beach holiday and coconut (maybe I just like smelling of food). Anyway back in 2007 Tom Ford collaborated with Estée Lauder and created a summer collection which included the fragrance Azurée Soleil Eau Fraiche (bit of a mouthful). I had never really bought anything from Estée Lauder but when I caught the scent from the counter I WAS OBSESSED. It smelled like a tropical holiday with holiday lotion and coconut. Since my birthday is in June I asked himself to get me a bottle (he actually bought me a bottle of white linen as well - WHITE LINEN... REALLY? - which I promptly returned in favour of another bottle of Azurée Soleil).
Gratuitous Tom Ford Picture (with his dog-
Source
)
The original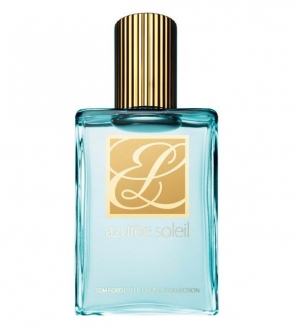 The following year Estée Lauder kept the fragrance but renamed it Bronze Goddess - that summer I was in New York and I picked up 4 bottles (see how obsessed I am with the perfume - plus it was less expensive over there) for myself and others.
If you love coconut and fresh smells you should go and have a sniff, it is a very light scent (not in the least overpowering) that you would have to reapply during the day. It is the kind of scent that people asked what you were wearing and soon people were obsessed with it (including Sile). I just love to smell myself when I'm wearing it (anybody else do that) and since we don't really get much sun here its great to smell like you're on holidays - it just brightens your mood. Every year for a limited time (when it's gone, it's gone) Bronze Goddess is available and for the last couple of years they have released both the original and a special edition (I always go for the original). This year the limited scent is Bronze Goddess Capri.
For summer us Emerald Eyeliner girls will be smelling of Original Bronze Goddess. It is a recognisable scent that truly smells like summer (one of the ladies I work with asks am I wearing Golden Princess).
The fragrance (as well as the makeup collection) is exclusively available from House of Fraser now
(here
) where it costs €59 (it only costs £40 so there is a Euro price discrepancy) and from May will be available from everywhere Estée Lauder is sold, but get it fast before its gone. (You will probably bump into one of us spraying ourselves while saying oooo it smells so good).